Curbside Pickup
We Make it Easy

In 4 simple steps, you'll be loaded and on your way.
At McCabe Lumber we want to make it easier on you to get exactly what you need. With our Express Pick Up, we'll do all the running around for you. The process is easy, follow the steps below to get started.
Create Your Order
Call, e-mail, or build online
Call or e-mail our store to place your order, or build your order online. If building online, please be sure to select the pick up option.
Pay
Pay on account or credit card
When placing your order, please indicate if you'd like to pay on an existing McCabe Lumber charge account or if you'd like to pay by credit card over the phone. Final billing will be completed once order is invoiced.
Product Picked
We'll fulfill your order for you so it's ready when you are
The McCabe Team has you covered. We will pull and fulfill your order as requested. If we are out of stock on a particular item, we will offer you a replacement item, as long as we have similar product(s) available. For items in the yard and warehouse we can either pre-select the product for pick up or you can pull it when you arrive. We will notify you by phone once your order is ready for pickup.
*Most orders will be ready within two hours of receiving them.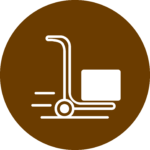 Order Pick Up
Call, load, then off you go!
Pull into the designated curbside pick up area and park. Once you're parked, call the store and we will send someone out to load you.